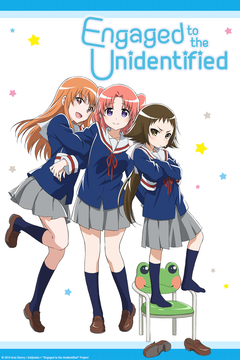 One of the first anime I watched was the adorable rom-com Engaged to the Unidentified. Now, sure, there are elements that aren't for everyone; for example, there's a strange amount of fanservice for a show so clearly geared toward straight girls. And don't get me started about the protagonist's clingy big sister Benio, who is probably one of the most annoying blockades to a rom-com relationship to date.
Still, I adored the relationship that slowly bloomed between the stunningly reserved Hakuya and his betrothed, the protagonist Kobeni.
I initially fell in love with the show for their sweet romance, but I also found something I hadn't realized I needed: validation.
Sentai Filmworks 2014
Despite being a high schooler, Kobeni is, for all intents and purposes, the stay-at-home mom of the family. She takes care of all the cooking and cleaning while her mother works a demanding job.
And Kobeni is very good at homemaking. Her sister-in-law to be, Mashiro, keeps a constant vigil over Kobeni's efforts to ensure she's a good enough bride-to-be for Hakuya. But Kobeni proves a more than capable housewife, exceeding expectations at every turn. The house is always spotless. She makes delicious meals; her desserts are so good that even Hakuya (who doesn't care for sweets) enjoys them.
And it's not just home economics Kobeni has under her belt; she's also a very kind and conscientious person. She may lack confidence, but almost every other character in the show comments at least once how good Kobeni is. She's wholesome and talented at what she does. She's always trying to apologize when she makes mistakes or hurts someone. She's very sweet and tenderhearted.
She's the perfect housewife, which is exactly what she wanted to be growing up. But comparing herself to her mother and sister's ambitions, Kobeni feels inferior. It's her sister Benio who reminds her that as a small child, Kobeni's dream was to be a bride and homemaker. And Kobeni still enjoys cooking and cleaning and taking care of family. So since that kind of life makes her happy, she should do it; there's nothing wrong or inferior about it.
While many might scoff at that message and call it misogynistic, I found it refreshing and validating. All I've wanted to be when I "grew up" was a stay-at-home mom who writes. I love kids, I love cooking, and I want to be able to pour my time and energy into the incredibly demanding job of taking care of a household rather than bringing home a paycheck.
The irony is, it was the Feminist movement that made me feel like I was wrong to want that life; as if it were shameful to want to be a stay-at-home mom. Like women have to have some grand ambition outside the home for our dreams to be valid.
And girls like me aren't the only ones who are constantly told their dreams are silly. If a dream isn't at least moderately ambitious, many scoff at it. And even more laugh if a dream is too ambitious. While I think it's important to keep realistic perspectives on our dreams, I don't think it's right to dismiss perfectly reasonable dreams outright. I think that kills dreams—and takes away people's joy.
How many times do we need to be told a perfectly reasonable dream just isn't realistic, or isn't right, or is something we should be ashamed of or cautious about?
I'm not saying it's wrong to caution people about the paths they're choosing or to give them advice. But when people constantly bad-mouth something that's burning in your heart… it gets so discouraging. How many people abandon their dreams just because of all that negativity?
But dreams can bring so much joy to people… especially when you realize you're getting closer to realizing them.
There was a period of my life not that long ago when my family had to find a new normal. My brother was going through high school and college, and my dad's business wasn't bringing in enough money to pay for it. My mom had to get a job for the first time in twenty-some years, and though it began as a part-time position, it slowly grew to full-time hours. She was gone a lot. Around this same time, my grandma was diagnosed with cancer.
Suddenly I found myself needing to take on a lot more responsibilities around the house. I took my grandma to some of her appointments to give my dad a break. But mostly, I helped out more around the house.
I'd done my own cooking and grocery shopping back when I'd temporarily moved out with my sister, so picking that up for the whole family wasn't hard. I started compiling the family shopping list and making meal menus for the week. I went to the store, I used the money from my part-time jobs to buy groceries, and I cooked most of the meals.
Sentai Filmworks 2014
It wasn't until a couple months in, as I was tying on my apron and getting ready to cook, that I realized: I'd become Kobeni.
My mom worked hard, and I wanted to help her out and thank her for all she'd done for me. So I tried to make sure the house was clean when she got home. I planned meals and started cooking at just the right time so she'd have something hot to eat as soon as she got home. Just like Kobeni did.
It seemed so silly, but the realization made me really happy. Because I was living my dream. Because I had become a pretty capable homemaker myself. And it was incredibly rewarding.
Thanks to Kobeni, I finally knew it was okay to have this dream; that no one is allowed to steal the joy I feel from taking care of a household just because they think "It's demeaning" or that I'm lazy because I "have no ambition" or that I "can't expect to live that kind of life because it's so unrealistic/entitled."
No. It's okay for me to want to take care of people. It's okay for me to want to be a full-time mom and homemaker. It's okay that I want to take a house and turn it into a home, a place where people can escape from the hectic craze of the "real world" and find a more real and safe place here, where they can be themselves and be part of my family.
Thanks to Kobeni, I knew that it was okay to have this dream… and that I could achieve it.
My dreams of being a homemaker often seemed just as far away as my dream of being a writer; like I'd never be able to actually pull it off. I was never going to get the skills I'd need to properly take care of an entire household. I'd never be able to just be a mom.
So in that moment when I tied on my apron, pulled back my hair, and realized I'd become a little bit like Kobeni… I realized that I was, in some small way, making my dreams come true.
And I think everyone who has a dream deserves to feel that same sense of happiness and pride. I'm glad Kobeni showed me it was okay to have the dreams I dream. And I hope I can offer that same message to you.
Now go. Follow that dream.
—
All photos property of their respective owners and used under US "Fair Use" laws.
The Engaged to the Unidentified anime adaptation is the property of Sentai Filmworks. And I am not affiliated with them.